The Frozen Few: Barcelona's Best Ice Cream, Part 2
Generations of inhabitants of the modern-day Italian peninsula may have learned the art of aromatized ices and frozen fruits and puddings from the East (China, Persia, etc.) – perhaps it was the Ancient Romans or Marco Polo or the Crusaders who introduced some variation of these cold treats. But it is the Italian Francesco Procopio who is considered to be the father of modern gelato. In 1660, he created the first machine to mix sugar, ice and fruit to make "cream." With less fat, less air, no egg and a slower churning process than traditional ice cream, gelato has found its own podium alongside the traditional Valencian-Catalan orxateries.
As Barcelona residents melt under soaring August temperatures, biding their time for a holiday getaway and continuing to battle the Covid variants, the one thing that provides some relief is the city's stellar gelato scene. A couple of decades ago, the numerous Italian residents and visitors to the city would navigate its streets in constant frustration at its frozen cream offerings. Nowadays, Italians, the largest community of foreigners in Barcelona, make some of the best gelato of the city.
Like all good ice cream makers, their eternal mantra is quality: 100% natural gelato and sorbets, made daily, with no preservatives or artificial colors, and an eye for local and seasonal ingredients. The number of Italian gelatarias in the city seems to grow every day. From the early Cremeria Toscana – which opened in 2004 and today is a franchise – to the dozens of small gelato parlors spread across Barcelona. The techniques of these owners, masters and consultants – Italian at their core but with Catalan flair – are driving some of the best gelato not just in the city or nation, but in the world .
Some of the best have integrated into the culinary sphere, attending an array of events and in constant collaboration with local producers and restaurants of Barcelona. The integration is so  deep that we can actually talk about a proper Catalan-Italian gelato, with its own specific identity: traditional Italian techniques, always excellent and obviously a natural connection, with Catalan culinary innovation, meaning a love for surprise and a large variety of local, magnificent ingredients.
While we recently published a roundup of Barcelona's best and most exciting ice cream spots, which are no longer few or far between, below is an in-depth look at the two best examples of the new world of gelato in the city.
DeLaCrem
DeLaCrem appears to be all over the culinary scene in Catalonia. The project, started by Massimo Pignata in 2010, with a small gelato parlor in Enric Granados Street, has now been duplicated in their obrador (workshop) location at Passeig Sant Joan, where on top of their storefront, they produce gelatos and sorbets for around thirty shops and restaurants in the province.
Massimo introduced to Barcelona the Italian pozzetti, a well of deep stainless steel buckets that keeps gelato cold and preserved without the need for additives. His supplier advised him against importing the expensive equipment, believing it just wouldn't work in Barcelona. Now, Delacrem is a reference point for some of the best gelato in the city. As Massimo explains to us: "This was a battle won, and shows us the evolution that the gelato culture has had in Barcelona. Now it is easier to find a gelato that is not, let's say, 'basic.' I like to think that we played a large part in this evolution." They did.
The Delacrem teams at both locations are creating new flavors each day. Massimo highlights some of their latest creations, which are constantly being revised and improved upon. They range from well-known dessert flavors like carrot cake to boozy inspirations like Piña Colada, to more gastronomic combinations of savory and succulent ingredients like tomato gazpacho, ginger, chili, basil and watermelon. Their line of savory gelatos is particularly oriented to the menus of the restaurants they work with, especially when collaborating with the young, innovative chefs of Barcelona who want to offer something special. The result can be creations that are more risky, like shitake or bloody milk cap mushroom gelatos, or pure mint leaf and ginger-pineapple ones. They use lavender and rosemary from the Mandarin Oriental hotel garden to make gelatos for the hotel kitchen. "Many of our more different flavors come from these collaborations with restaurants. I love this challenge from the chefs I work with. I always tell them: 'Provoke me, please. Poke me. Give me this drive to go farther'."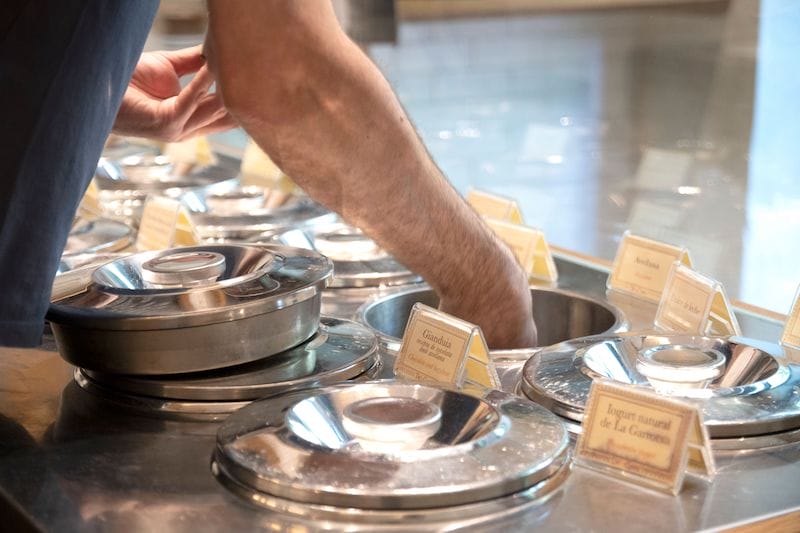 Of course Delacrem has traditional flavors on offer, but the more creative (saffron or rosemary cream or EVOO lemon) are screaming to be sampled. The fascinating fir with cranberries is like a walk in the piney woods. The Mediterranean basil with lemon, one of our favorites, is refreshing and aromatic. And speaking of Mediterranean aromas, the seasonal fig leaf flavor is a can't miss – though often not available. Massimo tells us how he developed the flavor: "It was like creating a flavor from a smell – that smell we have in our mind when we imagine walking close to a fig tree."
Like with the fig leaf gelato, inspiration for these outrageous tastes don't come from nowhere. Delacrem is dipping its scoops all across Catalonia. Massimo recounts his shopping list from his trip to the La Concepció market today: grapefruit, pineapple, cantaloupe, tomatoes, mint and fennel. Not to mention the Maresme strawberries that come from a farmer in Calella, plus fruit from other growers in the El Penedés area. The dairy is without a doubt local – the yogurt from the Garrotxa region, and different cheeses (used in flavors like goat cheese or cheese cake) provided by artisans like Mas D'Aroles, who then turn around and buy the gelato made at Delacrem. The same is true with their carob provider, Menjamiques. Their EVOO is from Les Garrigues, and organic saffron from Montsec is combined with the hotel garden lavender. For the chocolate, almost exclusively 70%, they directly collaborate with the Chocolate Museum of Barcelona. Delacrem is utilising these ingredients for more than just gelato as well, making marmalades and vegan sorbets, as well as gluten-free cookies, for all nutritional and flavor profiles.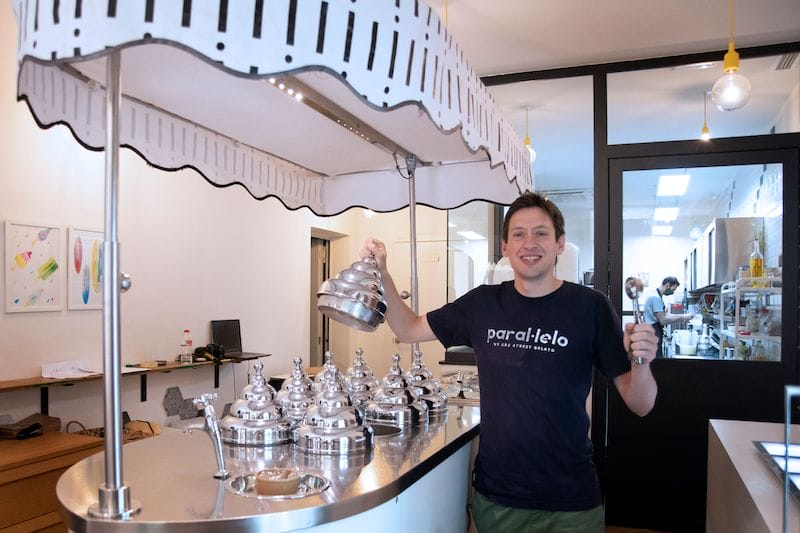 Paral·lelo
Paral·lelo is another importat reference point in Barcelona for Italian-Catalan gelato. As they say, they offer "a parallel world" of flavors, intensity and creativity in gelatos, sorbets and premium popsicles. It is run by three Italians (though created by four, all from San Remo): Matteo Regio, Marco Giancaterino and Francesco Guerrucci. Wanting to shake up the gelato scene in Barcelona, in 2016 they resigned from their jobs, and delved into the art of gelato making. Since then, they have created a new world of small-batch gelatos with local ingredients and marvelous flavors, from the classic standards to more creative seasonal offerings, always delicious and interesting. Their famous, old-school gelato cart is parked inside the shop – a feature that both the grandpas and youngsters love for different reasons – and is whipped out for open-air events around the city.
Marco tells us that they aspired to make the best gelato in the world, "but we realized that the criteria for that changes by culture. For us, it is important to make a product that is both original and somehow different. We wanted something more than what we considered to be the classic flavors. Then, we realized that every country has its own 'classic flavors.' We learned the Catalan traditions …. and many others after learning Spanish, like those of Latin America around chocolate selection."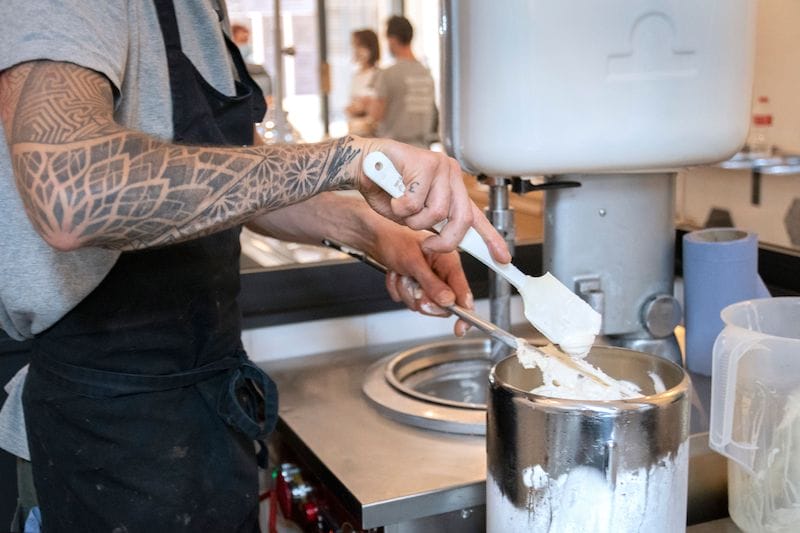 On their search, they located great local suppliers who have helped them to achieve their vision. "We put a lot of effort into finding local producers of the highest quality," Marco says. "For instance, our pistachios and hazelnuts are Catalan. We started buying some of the best pistachios in the world from Iran, but then we realized that with local ones our gelato was better!" Even coffee was a new adventure for them. "As Italians, we thought that we knew everything about coffee," he says. "But we learned a lot from our collaborations with SlowMov and Nomad."
In tribute to this multicultural connection, they developed the Two Worlds flavor, made from the white mucilage of the cocoa bean with EVOO from Arbequina olives of the Lleida province, a creamy and yet fresh combination with a subtle taste. Other delectable seasonal creations include their refreshing gazpacho granita, made with cherry tomato and strawberries from El Maresme (Barcelona's north coast), with a subtle hint of cucumber. We could have it every single day of the summer. A close second for that position is the seasonal Grana Padano cheese flavor (created for a local culinary event on ice cream workshops), which they recommend combining with a Modena vinegar reduction, dried tomatoes and lyophilized raspberries. But their bestseller, the pistachio, is the landmark in a sea of pistachio gelatos, made with the tiny nut from the Lleida province and roasted with a bit of its husk, giving it a very intense, wild taste.
Parallelo also sells in its shop some of the ingredients they use in their gelatos, including the very same roasted Lleida pistachios and Reus hazelnuts and artisan cookies. And we don't want to forget their gelato popsicles, handcrafted in the shop with the same flavors offered at the counter – including a very tempting dark chocolate covered in chopped pistachio.
Everything is possible in their world, where local Catalan products and innovative tastes walk parallel to an Italian vision and tradition, pushing an old school cart and looking to learn from the world's best gelatos.
A couple of decades ago, the numerous Italian residents and visitors to the city would navigate its streets in constant frustration at its frozen cream offerings. Nowadays, Italians, the largest community of foreigners in Barcelona, make the best of the city's gelato.
Other Italian gelaterias:
Gozze di Latte:
Pla de Palau, 4 / Vegan shop in Carrer Espasseria, 14 (Born)
 A small but excellent project of the Romans Mateo Morella and Rita Marra, Gozze di Latte opened in 2012. They have two small shops in El Born. The first is where they make their wonderful, high-quality gelatos and sorbets with spice-filled combinations like chili chocolate, dates and cardamom, or clementine and rosemary. The second, smaller shop is fully dedicated to vegan options made with rice milk.
Gelaaati di Marco:
Carrer Llibreteria, 7 (Gótic)
 Gelaaati di Marco is famous for its great quality and spectacular display of flavors, made from all-natural products with diverse, nutritional options. The shop was opened by Marco di Consiglio in 2006, a second-generation gelato artisan with decades of experience. Their flavors go from all the classic Italian ones to a few Catalan ones, to innovations like the G point (made of Açai from Brazil) or the Advocate and Lime.
Gelateria da Gallo:
Carrer de Mallorca, 277 (L'Eixample)
 A gelateria fully dedicated to the Sicilian tradition, Gelateria da Gallo was created by chef Nuncio Cona and offers natural, artisanal gelato made with organic milk, granitas of seasonal fruits, Palermo style slushes and a variety of Sicilian sweets.
August 10, 2021 The Frozen Few
My memories of helados (ice cream) as a kid in the small Galician town of Vigo in the […] Posted in Barcelona
August 25, 2021 Gelateria Al Polo Nord
Naples' Forcella district is known throughout Italy for the starring role it plays in […] Posted in Naples
February 20, 2016 Made in Catalonia
Quick bite: Join our full-day food tour in Barcelona to explore the proudly Catalan […] Posted in Barcelona