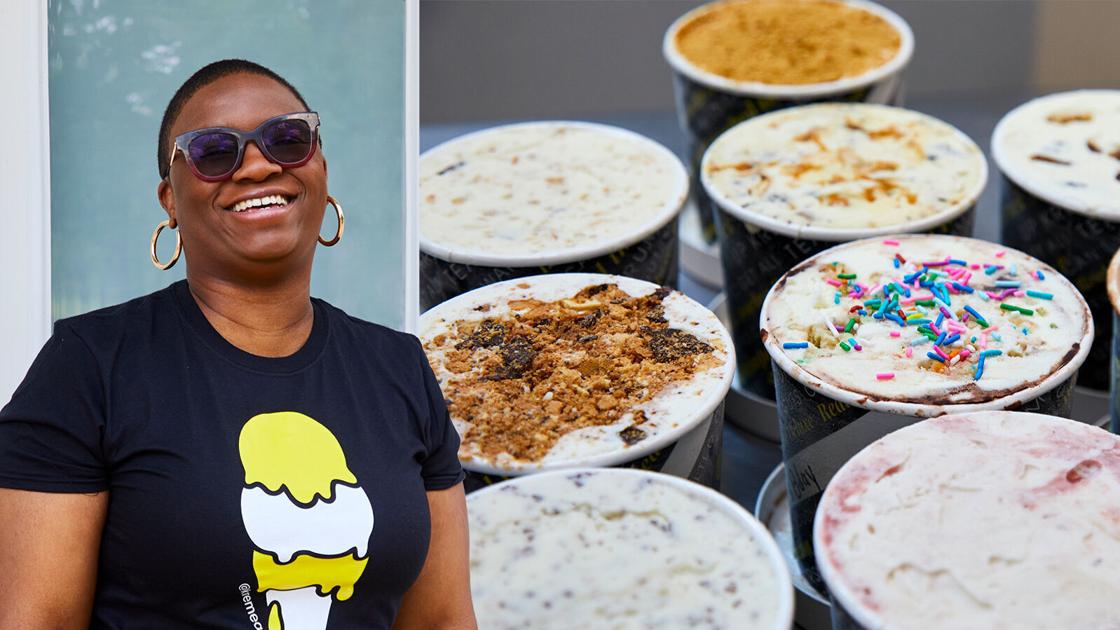 Kreme & Krumbs: Scooping up big, bold flavors of ice cream | Food-and-cooking
Inside a modest-looking white storefront on Glenwood Avenue in Bloomfield, New Jersey, there is always a waft of enticing smells that immediately envelopes visitors. You might detect a note of velvety vanilla from the bean pods sliced open on the stainless steel counter, the distinct smell of fine dark chocolate melting in a double boiler, strawberries cooking away into a luscious jam and even a lace of Kentucky bourbon.
The cozy space filled with kitchen equipment and flavors and ingredients, both exotic and grown just a short drive away, is the current nerve center of Kreme & Krumbs, a small but growing artisanal ice cream company that has become known for its inventive, flavorful scoops that are handcrafted in small batches. The brains, muscle and chief taste tester of Kreme & Krumbs is Kiahna Malloy, an East Orange woman who's passionate about good food and quality ingredients.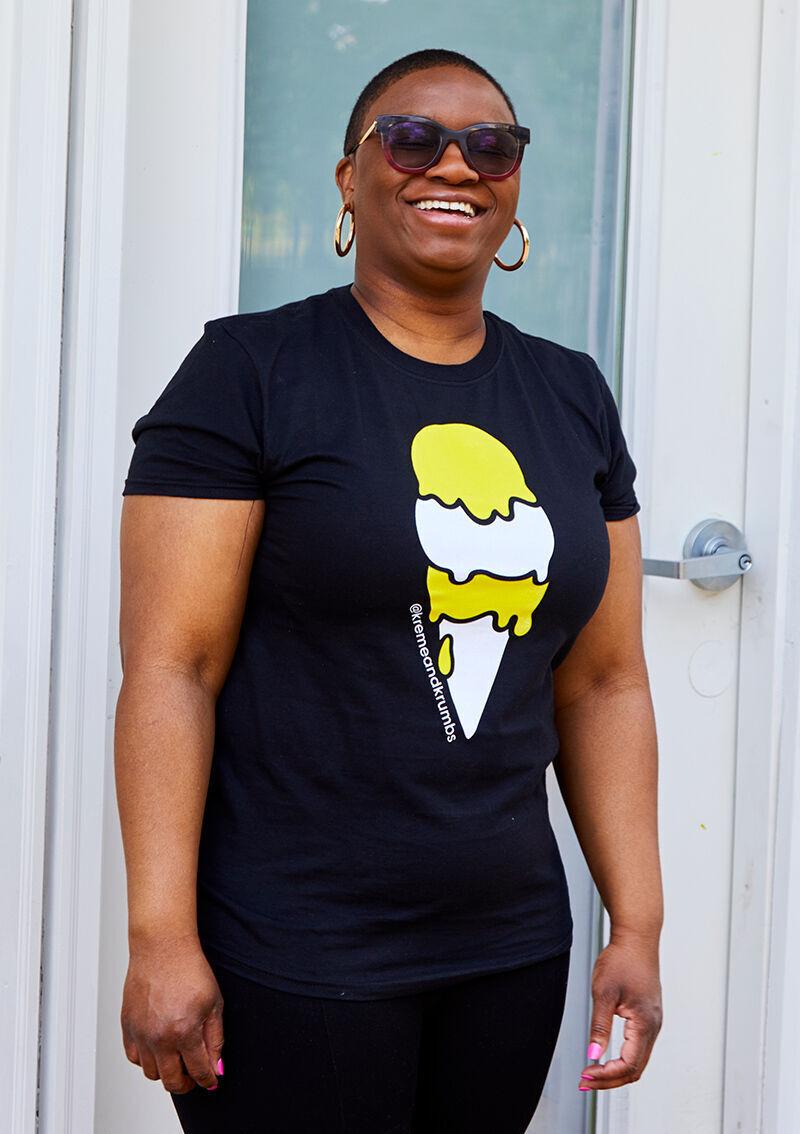 This ethos is reflected in her always-changing roster of bold flavors: pale pink strawberry with homemade jam swirled throughout, raspberry vanilla chip, salted vanilla caramel, milk and "kookies," Valrhona chocolate and bourbon pecan with real bourbon. She has novel ice cream flavors, such as Jersey Turnpike, a spin on rocky road; Dorothy's B-Day, a creamy dessert studded with real cake; and the addictive Krumb Stick, an ice cream drumstick crumbled into a vanilla base. Every bite is rich, creamy and crunchy with chocolatey waffle-cone bits.
Kreme & Krumbs is also known for its "kremewiches," Malloy's unique take on ice cream sandwiches. Instead of a cookie, Malloy sandwiches ice cream between two dainty slices of cake, small enough to eat one-handed. Popular flavors include chocolate with fudge and "konfetti" cake with confetti sprinkles and ice cream in one adorable package. People love the kremewiches because they are different and satisfy the sweet tooth, Malloy says.
"And everything is made from scratch," Malloy says. "Many people would say that their product is homemade, but they actually purchased an ice cream base and build on that base by adding chocolate chips and other ingredients."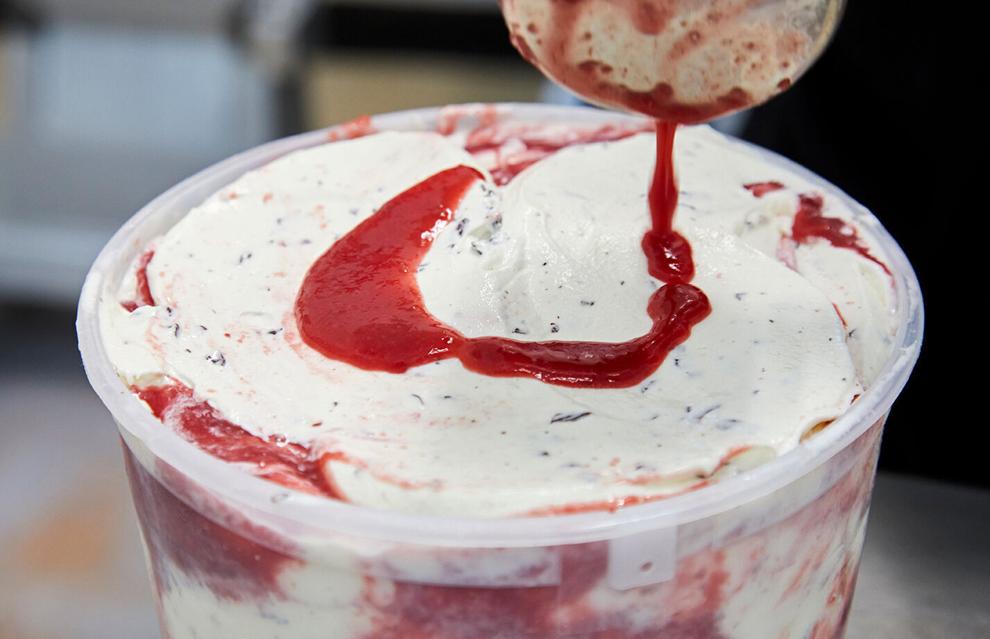 Taste beyond temperature
Malloy calls her product process "building from the ground up." Kreme & Krumbs ice cream bases are made in-house so that a mouthful will taste full-bodied, unlike the commercial flavors Malloy has noticed at many ice cream shops and ones sold at grocery stores.
"You just taste cold," Malloy says. "Or maybe an ice cream says on the label it's going to have a lot of caramel but there is only a little bit in there. That's disappointing."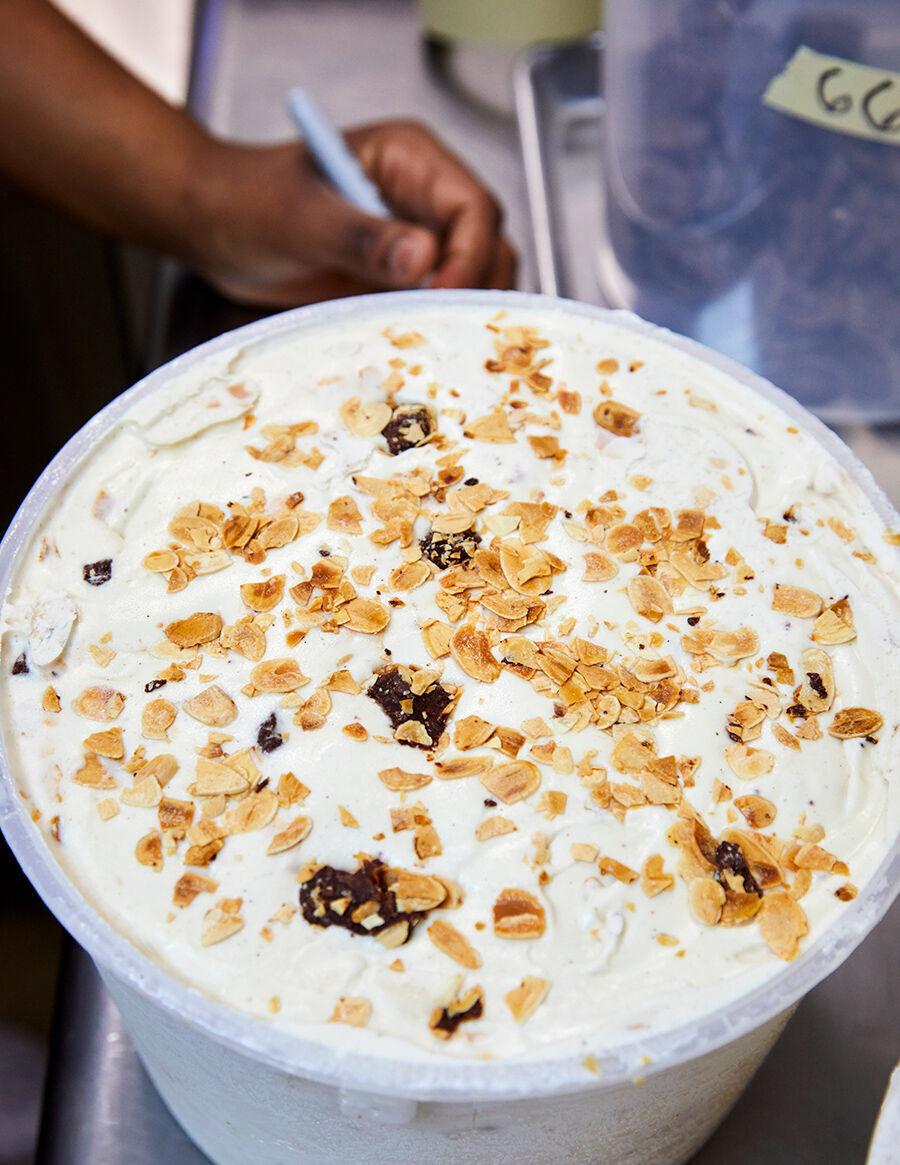 To counter that, Malloy and her staff laboriously torch every marshmallow that goes into her pints. They bake pans of cake and simmer pots of jam instead of outsourcing the product. The special mix-ins, from the "krumbles" to various sauces, are also made in-house.
"What also sets us apart is that we make everything seasonal," Malloy says. "So, if it's strawberry season, then you will see strawberry ice cream on our menu. If it's pumpkin season, you're going to get a pumpkin ice cream. We want our ice creams to taste real."
Lots of these seasonal ingredients are locally sourced. Malloy wanted to take advantage of the agricultural bounty of New Jersey, nicknamed the "Garden State." Fruits are grown in nearby orchards and fields. Milk is from cows in the Hudson Valley. Marshmallows are sourced from the Hudson Valley Marshmallow Company, which Malloy claims makes the tastiest.
As for flavors that need to be imported, Malloy strives to get the best, such as the finest vanilla beans from Madagascar and Valrhona chocolate from Tain L'Hermitage, France.
Because of these practices, Malloy says her ice cream flavor profiles stand out.
"You are going to have great ice cream that's not overly sweet, and still tastes good and fresh. We always try to go out of the box with flavors," she says.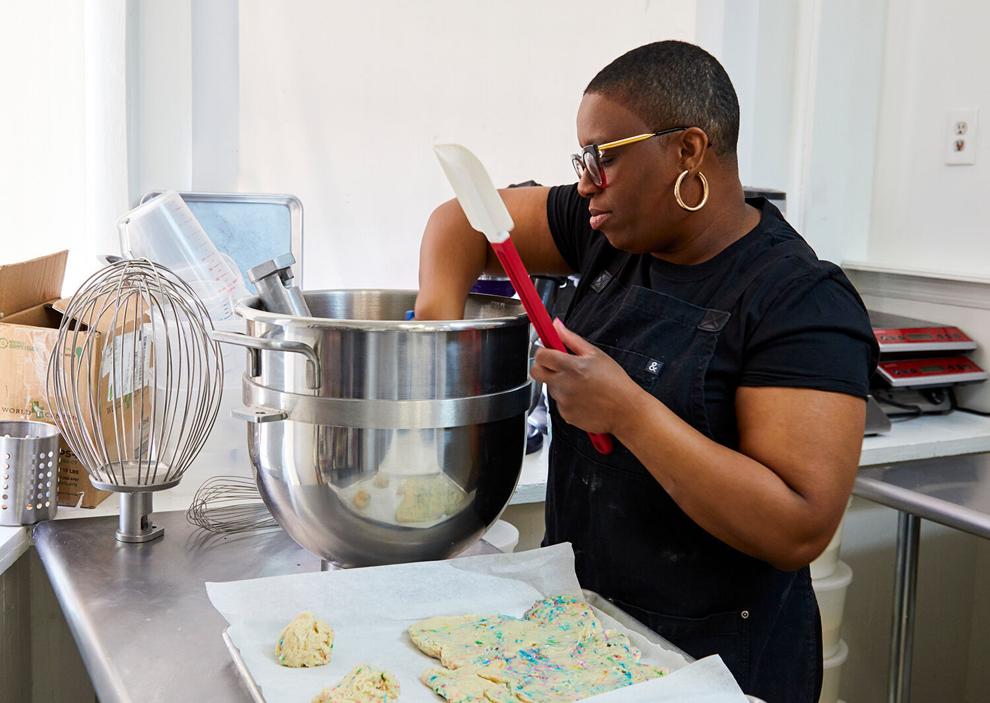 Starting off sweet
In contrast to her current surroundings, Malloy was born and raised in New Jersey, and her family emphasized responsible, stable jobs with good benefits.
Malloy followed this well-trodden path by working for the federal government for more than 20 years with stints at various agencies, including the Office of Financial Research, U.S. Citizenship and Immigration Services and the Internal Revenue Service.
But she was always drawn into the art of baking and cooking. In 2000, she attended the culinary program at Anne Arundel Community College in Maryland with the goal of becoming a pastry chef.
"I knew I didn't want to keep on working for the federal government. It was not my thing. I love sweets. So, I went to culinary school because I wanted to learn how to bake," says Malloy, who was living in the Washington, D.C. area at the time.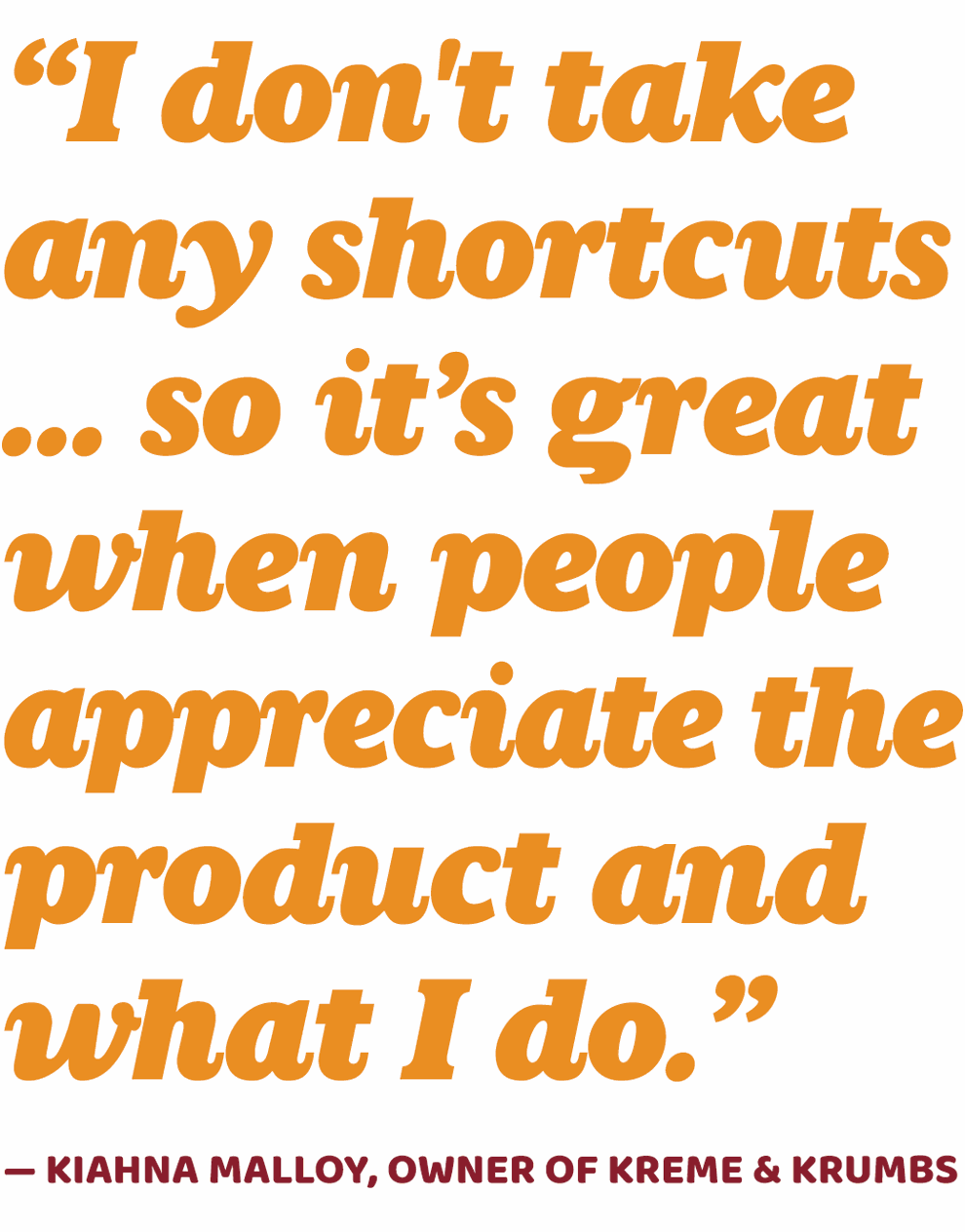 At one point, Malloy was working for CakeLove, a bakery in Maryland, balancing that job with a steady federal government position. At CakeLove, Malloy prepped for the head baker, which involved cracking countless eggs, separating whites and yolks, cutting up blocks of butter and slicing up produce, such as strawberries. She also iced cupcakes and cakes.
"I would have done it for free," Malloy says. "But I was too afraid of leaving my job because, of course, my mom was like, 'Oh my gosh, you have this great job, and like, never give it up.' It's a government job. You know, you got benefits and security and all that stuff."
Eventually, Malloy quit her job, moved back to New Jersey with her husband, and in 2009, opened a cupcake shop called Trendy Sweets in Haddon Heights, a town near Philadelphia. Trendy Sweets closed in 2011. Malloy licked her wounds and went back to working for the federal government. The shop's location, Malloy admits, was poorly researched.
Despite this setback, Malloy was determined to make a career and business in cooking or baking. In 2012, she started making ice cream. In her home kitchen in New Jersey, Malloy would cook up batches of vanilla, salty caramel, raspberry and chocolate. She experimented with mix-ins — macerated seasonal fruits, cream cheese, marshmallows and chunks of homemade cake. Her first ice cream sandwiches used waffle-shaped cookies with flavors like dark chocolate. It was a lot of trial and error, Malloy says, with hours spent poring over books studying the science of ice cream and, of course, working laboriously over her stove.
"I was working on my craft," Malloy says.
An artisanal affair
During this time of discovery and experimentation, Malloy hit upon what she wanted from her ice cream venture and what would become Kreme & Krumbs' calling card: artisanal ice cream made from scratch with inventive, rich flavors.
In 2014, she sold her creations at a Williams-Sonoma artisan food event. In 2017, she formed Kreme & Krumbs, which operated at first as a pop-up at special events and through social media. Her Instagram page for Kreme & Krumbs started garnering a following. In 2018, she was a vendor at the Essence Street Style Block Party in Brooklyn, which gained her more fans. That same year, Malloy was laid off from her job at the Office of Financial Research, which gave her the perfect opportunity to do Kreme & Krumbs full-time and take another chance on herself.
"I was so lucky to have my number be called so I can pursue my career, my dream," she says.
In 2019, Malloy started selling her original kremewiches on Amazon. She opened her Bloomfield location in August that year.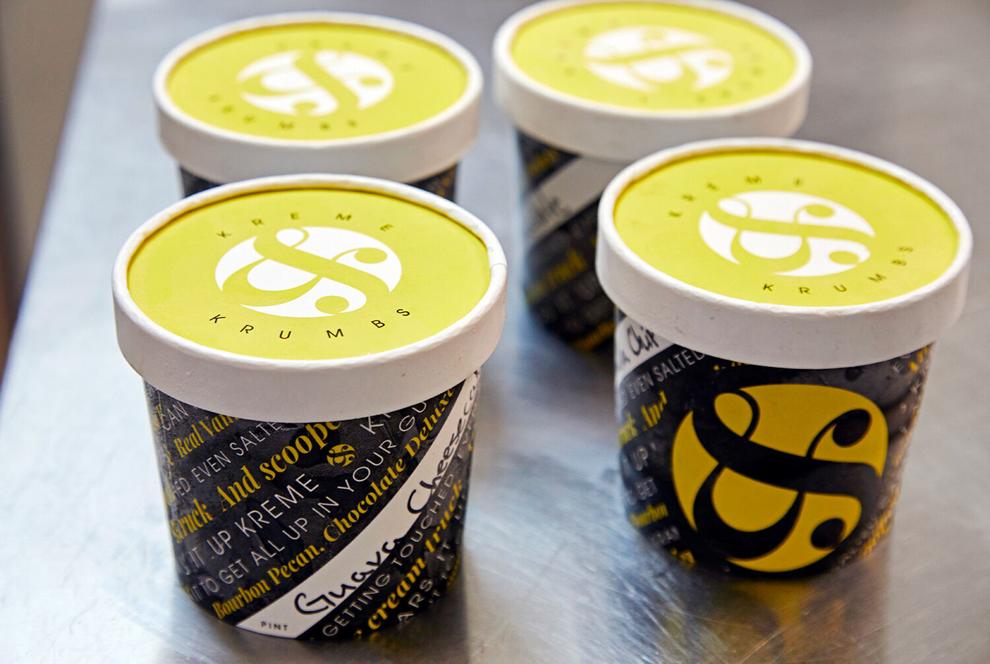 "People were anticipating on us to open up," she says. "Local bloggers saw our 'Coming soon' sign. So that support really got us up and running. People were really excited about it and excited about getting something different than the traditional ice cream shop."
Even with the disruptions from the pandemic, Malloy did not lose a step. She coped by promoting Kreme & Krumbs on social media and selling pints from the Bloomfield storefront, which was closed to indoor service. She hired two staff members to help ramp up production.
"Once we opened back up, at first my customers in the first week were kind of hesitant," Malloy says about emerging from the spring lockdown in 2020. "They learned they had to order just pints. So, we made ice cream from Monday through Friday. And I would put our inventory on the website every Saturday morning and people would crash the website."
Malloy continues, "It was heartbreaking in a sense because you don't want to disappoint the customers, but it was pretty cool to see the demand for ice cream and the fact that we were making people happy despite the pandemic."
In fact, every Saturday morning was a leap of faith for Malloy.
"I always cry every Saturday," she says. "I'm always nervous. Are they going to come back? Are they over me? But that has not happened."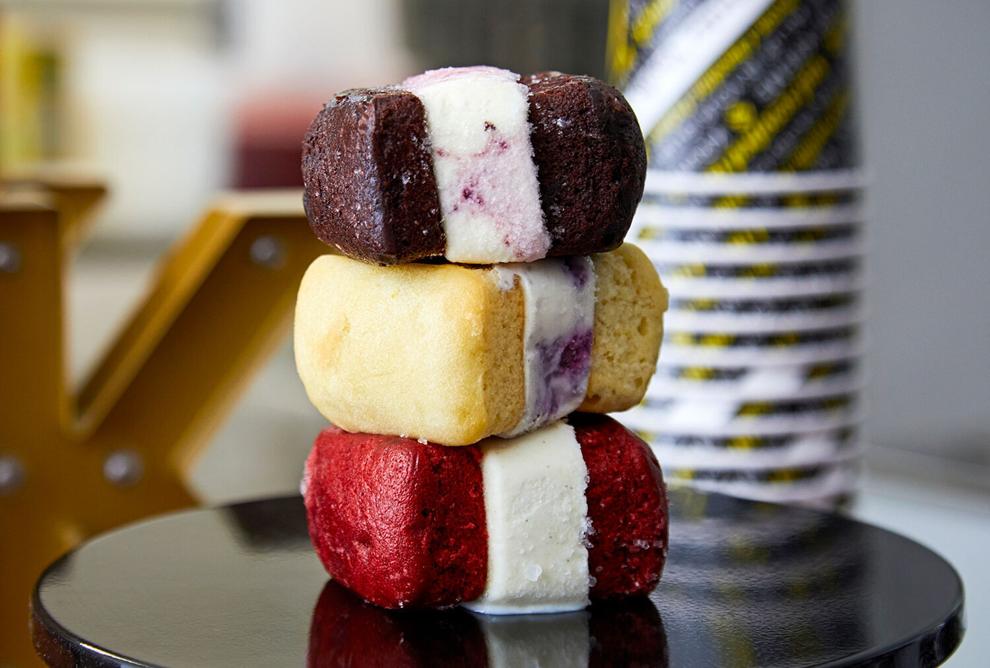 Popping off
In order to expand business and keep up with expected demand for the summer, Malloy hired more staff and opened a new storefront, a pop-up shop in Montclair, New Jersey, which began welcoming customers on May 21. At that location, people can pick up pints, kremewiches and scoops of ice cream to go. Malloy is excited about this new growth.
"I am so happy people are able to sit down and enjoy ice cream," she says. "Seeing their joy is great."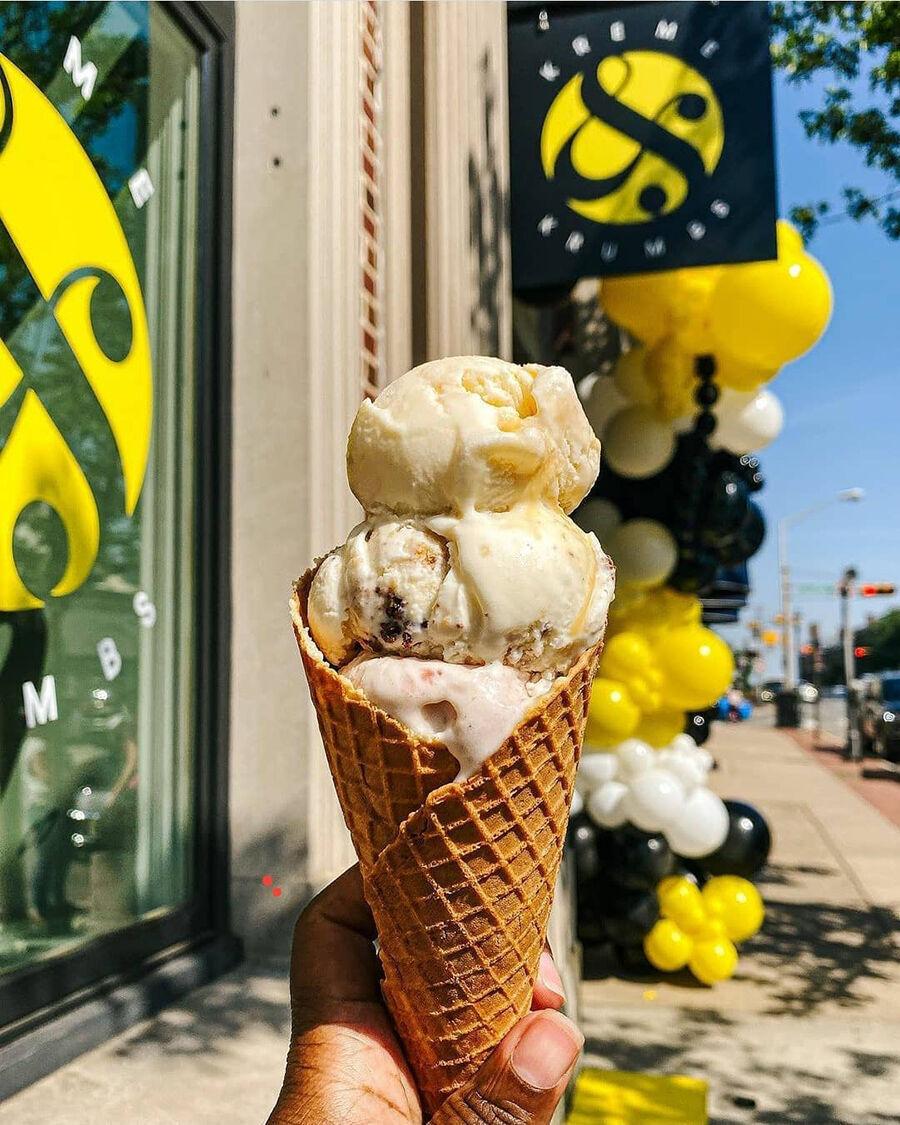 On a recent morning at the Bloomfield location, Malloy and her staff were busy mixing up batches of bourbon pecan. Candied pecans were roasting in pans in the oven while a staff member poured bourbon into containers full of a creamy concoction. A stainless steel churner worked away on a batch of ice cream. Sheets of cakes were cooling in a large fridge that also contained fresh strawberries and various curds and sauces.
Malloy says current popular flavors are bourbon pecan and lemon cream cake, which has a mascarpone cheese base.
"We are always rotating flavors to keep people coming back," Malloy says. "And with our ice cream flavors, we always try to take it to another level."
When Malloy stands back and looks around the kitchen and then sees the excitement and joy in people's faces when they bite into a Kreme & Krumbs creation, she is moved.
"This joy is overwhelming because I really, really do it the hard way," she says. "I don't take any shortcuts when it comes to making a product, so it's great when people really appreciate the product and what I do. And that brings me nothing but joy."